Meet Our Team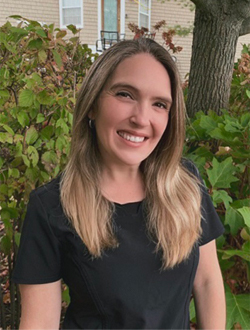 Carin Caldarulo
Certified Dental Assistant
Carin began her career in the dental industry in 2007. She started as an entry level dental assistant and quickly moved up the ranks with her determination to obtain her certifications and licensing. Knowledgeable in all aspects of dentistry, Carin has had the opportunity to work in general dentistry, endodontics, oral surgery and orthodontics. She stays up to date through continuing education, learning about what new information the dental field has to offer.
Some of her most beneficial qualities which make her a stand out dental assistant is to provide the balance between being professional and friendly. Carin's role in our office is to not only assist the doctor but to make sure the patient feels comfortable and at ease in the chair. She is able to provide dental education to the patients and explain any of the procedures in a way the patient will be able to understand.
On Carin's spare time she enjoys spending every moment with her beautiful daughter. They enjoy family and friends, outdoor activities, movie nights and shopping. Their family loves all forms of performing arts, crafting and fine arts.