Office Policies
If you have any questions about our office policies, please call our office during business hours at (732) 741-8040.
Payment Options
We participate with Delta Dental Premiere and we accept Visa, Mastercard, American Express, and Discover.

---
Financing
We also offer financing through carecredit.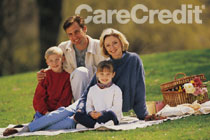 As a service to our patients, we are pleased to offer the CareCredit card, North America's leading patient payment program. CareCredit offers a full range of payment plans to meet every financing need. With the popular No Interest Payment Plans* there are no interest charges if the balance is paid in full within the specified time period. Or, if you prefer an even lower monthly payment, you can choose the low interest, Extended Payment Plans* for procedure fees from $1,000 and up. Plus, there are no upfront costs, no annual fees, and no pre-payment penalties. It's easy to apply and you'll receive an online decision in seconds. Apply Now or see our staff for more details.
---
Insurance
Our office participates with the following insurance:
If your insurance plan is NOT listed full payment is expected at time of service. At each appointment, please be prepared to bring with you; your dental insurance card, any updated medical information and method of payment.
We will continue to electronically file claims, from ALL insurance companies, relating to the treatment performed in our office and address any denials or appeals when necessary. You will be responsible to notify the office with any claim concerns, denials or appeals.
---
Composite vs. Amalgam Restoration
Our office is dedicated to providing the highest quality of dental care to our patients. Please take note that in the best health and interest of our patients we will place ONLY composite resin fillings on both anterior and posterior teeth as opposed to silver mercury fillings (amalgams). Most major insurance providers pay for composite fillings up to the price of amalgam fillings, with the patient paying the difference. If you have any questions regarding your individual insurance coverage we recommend you review your insurance policy book prior to your appointment or call the office for more information.
Informed Consent Tooth Colored Composite Fillings
A composite resin is a tooth-colored plastic mixture filled with glass (silicon dioxide).
Dental composites were confined to the front teeth because they were not strong enough to withstand the pressure generated by the back teeth. Since then, composites have been significantly improved and can be successfully placed in the back teeth as well. Studies have now shown that composites have strength, durability, and longevity comparable to silver-mercury fillings. Esthetics are far superior over silver-mercury fillings. The dentist can blend shades to create a color nearly identical to that of the actual tooth. Composites also bond to the tooth to support the remaining tooth structure, which helps to prevent breakage and insulate the tooth from excessive temperature changes. Our office ONLY places composite resin (tooth colored) fillings. Please note, most dental insurance plans do not cover the entire cost of the composite fillings. This may result with the patient responsible for paying a modest balance. If you have any questions regarding your individual insurance coverage we recommend you review your insurance policy book prior to your appointment. I certify that I have read the above information regarding composite resin tooth colored fillings, and recognize that if my insurance does not pay for tooth colored restorations that I am responsible for the balance.